Best markets in London
When looking back on my time spent living in the capital, one of the things I miss the most are the brilliant markets! I especially loved the street food markets but check out the list below for my favourite, must-see markets in London.
Brick Lane Sunday Market
Located near the trendy East London suburb of Shoreditch, Brick Lane Market is a short walk from Bethnal Green Tube station or Shoreditch High St Overground station. On a Sunday, traders line the street selling everything from clothing, jewellery, art, antiques and lots more. Some of the best vintage clothing shops are located along Brick Lane, if that is your thing. My favourite part of the Sunday Market was the amazing street food. There are numerous options so you can eat until your hearts content. Be sure to try a salted beef beigel from Brick Lane Beigel Bake if you get the chance. Brick Lane is also a great place to check out even when the market isn't on. There are some fun bars and of course the famous curry houses.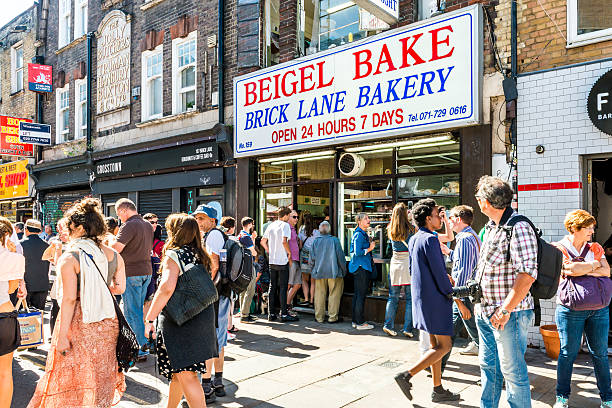 Borough Market
Another awesome food market well worth checking out!
Jump off the tube at London Bridge station for a short walk to the Borough Market. Here, you will be able to pick up some fresh produce, such as fruit and veg, and specialty cheeses. There are also multiple options for lunch so be sure to go there on an empty stomach. If you're craving a good coffee, I can recommend Monmouth Coffee Company which is located just outside the Market Building. If you can, try to go to Borough Market on a weekday as it can get very busy over the weekend.
Columbia Road Flower Market
Yet another market in East London. Columbia Road Flower Market is located in Bethnal Green and is only open on Sundays. It is also walking distance to Brick Lane so you may be able to check them both out in the one day. On Sunday's, Columbia Road is transformed into an incredible sea of colour with flowers being sold by the bucket load. Walking towards the market you will begin to hear the shouts of the traders trying to sell their product and having banter with the other traders. If you arrive in peak time (11am-1pm), expect to bustle though crowds as the road is narrow. If you are looking for a bargain, arrive towards the end of the market (3pm) as the traders will start to lower their prices.
Camden Market
Maybe the most famous market on the list. Located a short walk from Chalk Farm or Camden Town Tube station, Camden Market is a must see while in London. With over 1000 market stalls you are really spoiled for choice. You will find clothing, shoes, records, antiques, accessories, food and everything in-between. There really is something for everyone. Camden is famed for its nightlife and music scene so maybe catch a gig after a day of browsing the markets. Another attraction close by is Primrose Hill and I strongly recommend taking a short stroll to the top if you get the chance. Once up there you will be greeted with a spectacular view of the London skyline.
Broadway Market
Broadway Market is located in Hackney, in East London, just south of London Fields. It is another great food market where you can grab a bite to eat or buy some fresh produce to cook later. It only runs on Saturdays, so plan accordingly. What I loved about Broadway Market is its close proximity to London Fields. When the sun comes out, people flood to London Fields to soak it all in. You will find Londoners having a drink, dancing to music, cooking BBQ's and overall enjoying a fun time. Some of my most memorable Saturdays spent in London started with lunch a Broadway Market, a quick stop at the bottle shop to grab some beers, then meeting my friends in London Fields to enjoy the sunny weather with a couple of drinks.
Reyne Auld – Teacher and Teach In Consultant